Team DigitX, a team of ten undergraduates from the Department of Electronic and Telecommunication Engineering (ENTC) under the supervision of Dr. Chamira Edussooriya from ENTC, University of Moratuwa, emerged as the champions of the Students Challenge at the Internal Conference on Autonomous Systems (ICAS) 2021 conference. The conference was held virtually in Montreal, Canada from August 11 to 13, 2021.
ICAS 2021 is the premier international forum organized by the IEEE Signal Processing Society (SPS) through IEEE SPS Autonomous Systems Initiative, for presenting the technological advances and research results in the fields of theoretical, experimental and applied autonomous systems. IEEE ICAS was held for the first time this year and it focused on providing an updated state-of-the-art over advanced signal processing theories and techniques that are relevant for developing autonomous systems.
The ICAS 2021 Students Challenge was on "unsupervised anomaly detection through self-aware autonomous systems", to detect abnormal events during the navigation of a ground/ aerial vehicle. The team was able to develop an unsupervised learning algorithm with state-of the-art signal processing and machine learning techniques such as auto-encoders, recurrent neural networks for time-series data signal processing.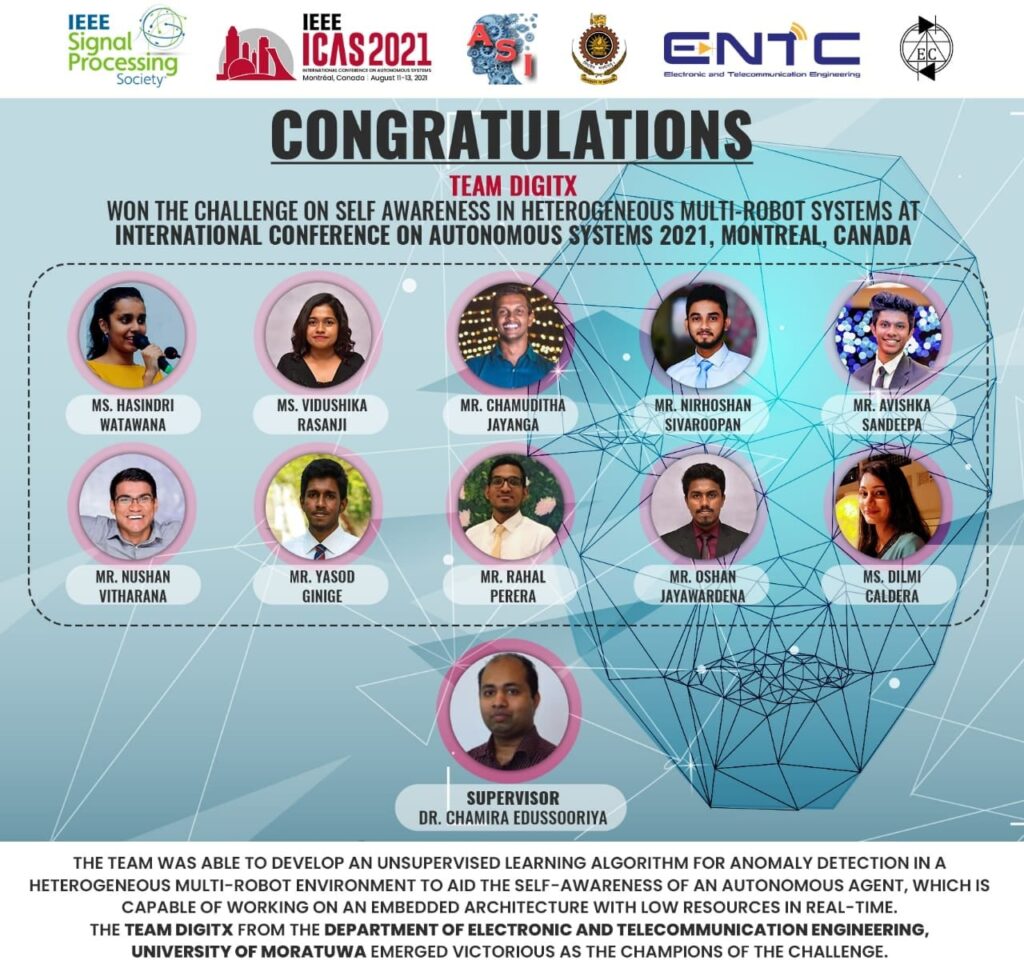 Based on the inertial measurement unit (IMU) sensor data, video data captured by the cameras of autonomous systems in several camera perspectives and light detection and ranging (LIDAR) sensor data (point clouds), the unsupervised model was trained to identify the normal situations that it saw during the training phase as normal and every other situation as abnormal (as per the challenge requirement a reference normal scenario was defined for each dataset). UoM won the first place while a team from Indian Institute of Technology (IIT), India and a team from CentralSupelec, France won first and second runners up, respectively.
An autonomous system is an artificial system capable of performing a set of tasks with a high degree of autonomy. Developing computing systems with advanced levels of autonomy has been a crucial task for decades in order to manage ever-increasing requirements in complexity. This achievement by UoM places Sri Lanka at a higher position in the world signal processing community.
Read More
A research paper titled "Detection of Diabetes by Macrovascular Tortuosity of Superior Bulbar Conjunctiva" was presented at the 40th Annual International Conference of the IEEE Engineering in Medicine and Biology Society (EMBC) 2018 held in Honolulu, Hawaii, USA from July 17th to 21st. It was presented by Mr. Achintha Iroshan Kondarage and the manuscript was written by Mr. Achintha Iroshan Kondarage and Mr. Dulara De Zoysa. This Research was conducted under the supervision of Dr. Anjula De Silva, Dr. Nuwan Dayananda, Prof. Saroj Jayasinghe, Dr. Mahen Wijesuriya and Dr.Chamari Warnapura. This research was carried out with collaboration of three institutions, Department of Electronic and Telecommunication of University of Moratuwa, Department of Clinical Medicine of University of Colombo and The National Diabetes Center. Authors are focusing on implementation of computational methodologies to detect micro and macro vascular complexities. In this research work they have implemented several image processing algorithms and computational methodologies to compute tortuosity of blood vessels in bulbar conjunctiva using a 2D image of sclera region. They have also identified a significant relationship between diabetes and macro vascular tortuosity of bulbar conjunctiva.
EMBC is the annual flagship conference of the IEEE Engineering in Medicine and Biology Society, covering a broad range of topics from cutting edge biomedical and healthcare technology research and development to clinical applications, biomedical education and entrepreneurship. It is the world's largest international biomedical engineering conference. This research was conducted as the final year research project of Mr. Achintha Iroshan Kondarage and Mr. Dulara De Zoysa under the Biomedical Engineering degree program at Electronic and Telecommunication Engineering department of University of Moratuwa.
Read More
On the 2nd of May 2018, a talk organized by the Center for Biomedical Innovation (CEBI) on biomedical engineering opportunities was held at the Electronics and Telecommunications Engineering (ENTC) department with delegates from the Queensland University of Technology, Australia. The delegation consisted of Professor Prasad Yarlagadda, Professor John Bell, and Dr. Kateryna Bazaka who were visiting the University of Moratuwa in a bid to strengthen ties between the two institutions. Prof. John Bell and Dr. Kateryna Bazaka spoke broadly about research at QUT and Prof. Prasad Yarlagadda gave a talk on the "study of natural bactericidal surface production on titanium implants for orthopedic applications" which is one of his research focuses. Furthermore, as QUT has a strong robotics group, the delegation also spent some time with Prof. Rohan Munasinghe at the UAV lab located in the ENTC department as well as with Prof. Ruwan Gopura at the Bionics lab located in the Mechanical Department.
CEBI, a multidisciplinary research center established by the University of Moratuwa is an initiative towards collaborative commercializable research in the area of biomedical device development. Dr. Pujitha Silva as the center director, Dr. Nuwan Dayananda, and Professor Ruwan Gopura as the HoD's of ENTC and Mechanical respectively along with other senior biomedical lecturing staff members from ENTC, mechanical and other relevant departments play a pivotal role in the progress of this center. This visit has allowed for mutual insight to be obtained on the current research trends occurring both at QUT and at UoM and has created a path for future collaborative activities.
Read More