Registration Closed 
---
Robotics has grabbed the key interest of the local and international community for a number of years with its innovative concepts. Ameliorating the high thinking power and the strategic problem solving & designing, E-club alongside the Department of Electronics and Telecommunication Engineering staged the Sri Lankan Robotics Challenge (SLRC) each year for eight consecutive times.
Sri Lankan Robotics Challenge 2021 organized by the E-Club of the Department of Electronic and Telecommunication Engineering of University of Moratuwa will be happening this year for the ninth time gathering robotics enthusiasts from all around the country to one place.
Due to the unfavorable situation prevailing in the country, the competition and its proceedings will be held on a fully virtual platform this year. This decision is taken to ensure the safety of everyone.
SLRC 2021 will be organized under two categories
School Category

University Category
School Category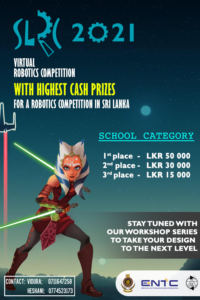 School Category competition is aimed at providing an international standard platform for school students to learn, experience, and demonstrate their interest in the field of robotics. All the winners will be entitled to cash prizes and certificates from the University.
In the aid of SLRC 2021, a series of online workshops will be conducted by E-Club which will help the teams to get more knowledge on robotics and to witness demonstrations. This will happen before the competition and all the participants who registered for SLRC 2021 are invited to participate in the workshop series.
Participants are required to apply as teams of up to 5 members. Each team should have a team leader. Only the team leader should register the team via the directed link (note that one school can have more than one team). All team members must be from the same school. Each team member should be in grade 5 or above. Students who are currently waiting for the university entrance can also apply for the competition under the school that they did Advanced Level Examination.
The date of the competition, workshops and the tasks of the School Category of SLRC 2021 will be informed to you soon.
This platform will strengthen the robotics education and experience opening up many paths for you in the future. Register a team and Stay tuned for further updates!
Registration link: https://forms.gle/2uMAE2UCUf1JHHaBA
University Category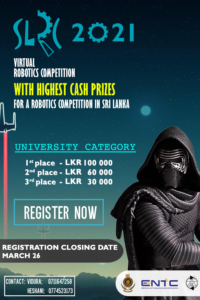 University Category competition of SLRC 2021 provides a valuable platform for the innovative youth to learn, experiment, and grow in the field of robotics.
The competition will be conducted on a fully virtual platform this year to ensure the safety of everyone. You can register a team of up to five members. Refer to the following document to know further about the competition guidelines and the task assigned for University Category teams.
https://drive.google.com/file/d/1SEAqFQSDRs9Ktmwbtm-TkhYnLxV3U-Kb/view?usp=sharing
Please use the following link to get registered for the competition in University Category.
Registration link: https://forms.gle/xXgpZBxcPwv6zbZ96