Research paper acceptance at IEEE/CVF WACV 2022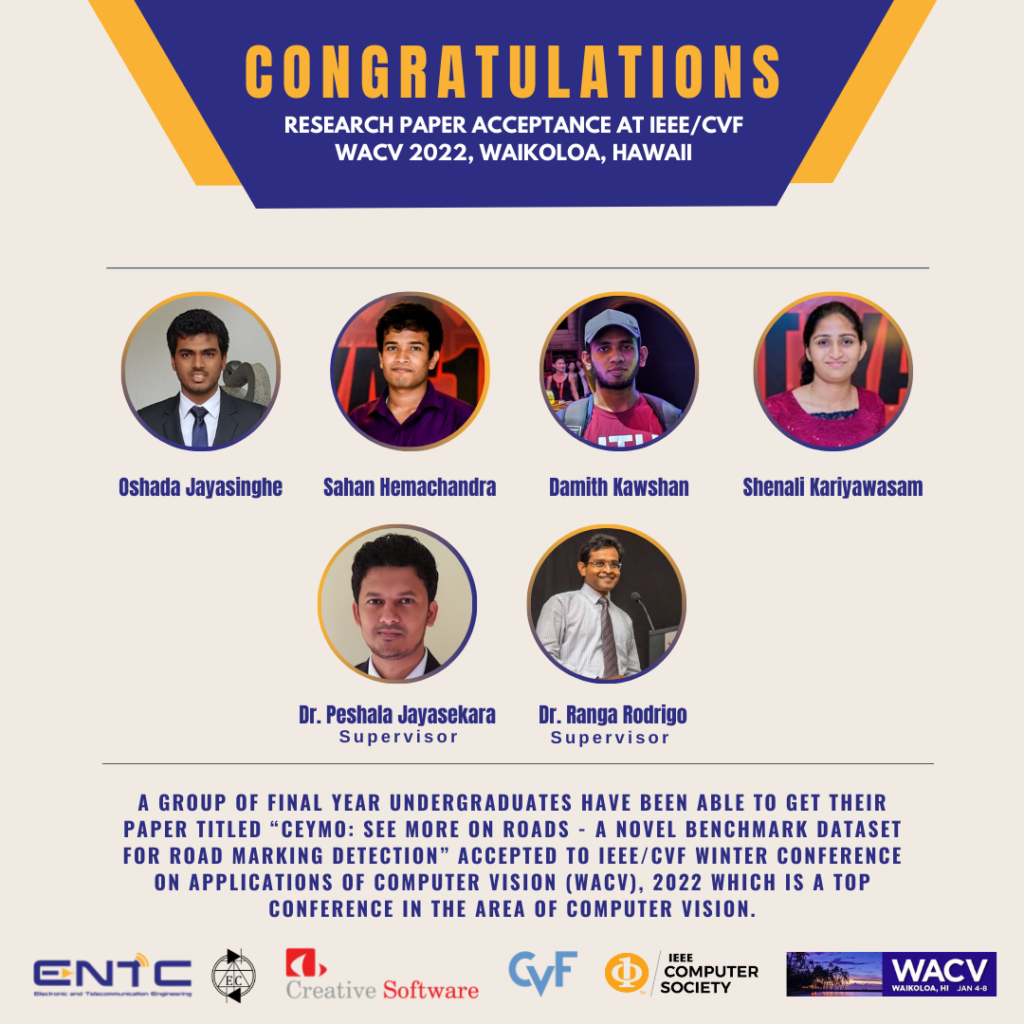 A research paper titled "CeyMo: See More on Roads – A Novel Benchmark Dataset for Road Marking Detection" has been accepted to the IEEE/CVF Winter Conference on Applications of Computer Vision (WACV), 2022. The research was conducted by Oshada Jayasinghe, Sahan Hemachandra, Damith Anhettigama, and Shenali Kariyawasam under the supervision of Dr. Peshala Jayasekara and Dr. Ranga Rodrigo.
The paper introduces a novel road marking benchmark dataset for road marking detection in advanced driver assistance systems and autonomous vehicles. Though understanding road markings is a fundamental perception task in autonomous vehicles, the development of robust road marking detection algorithms has been a challenging task in the research community due to diverse road, illumination, and traffic scenarios. The introduced dataset covers a wide variety of urban, sub-urban, and rural road scenarios with diverse illumination and weather conditions. The multiple annotation formats and the clear evaluation metrics with the evaluation script will promote novel road marking detection algorithms and direct comparison of them. Furthermore, the authors evaluate the approaches of utilizing instance segmentation-based and object detection-based neural network architectures for the road marking detection task, which will facilitate future research on road marking detection in challenging environments.
WACV is a top international conference in the field of computer vision and pattern recognition organized annually by the IEEE Computer Society and the Computer Vision Foundation. WACV 2022 will be held from 4th to 8th of January 2022 in Waikoloa, Hawaii, USA. This research was carried out as a final year project at the Department of Electronic and Telecommunication Engineering (ENTC), University of Moratuwa in collaboration with Creative Software Pvt. Ltd.
---