Team CircuitBreakers of ENTC Wins the IEEE Region 10 Robotics Competition
The Department of Electronic and Telecommunication Engineering at the University of Moratuwa is proud to announce the success of Team CircuitBreakers at the IEEE Region 10 Robotics Competition. The competition, which was held on 17 and 18 December 2022 at the Faculty of Engineering at Chulalongkorn University in Bangkok, Thailand, focused on the theme of "Robotics for Healthcare."
Team CircuitBreakers, which consists of Shalutha Rajapakshe, Dilanka Wickramasinghe, Sahan Gurusinghe, and Deepana Ishtaweera, was mentored by Mr. Bhanuka Silva and supervised by Dr. Peshala Jayasekara. The team developed a collaborative quadcopter and hexapod robot system for disaster response missions, in which the quadcopter surveys and maps out the disaster environment while detecting victims, and the ground hexapod robot autonomously navigates to deliver medical packs and teleconference with victims.
The project was self-funded, with additional support from CSIRO Data 61 in Australia. Team CircuitBreakers emerged as the winner of the competition, beating out other teams from across the region.
The main objective of the competition was to raise awareness among young IEEE members about the importance of technology in providing solutions to real-world problems and to encourage creativity and innovation. Team CircuitBreakers' groundbreaking project exemplifies this goal, using cutting-edge robotics technology to address the critical issue of disaster response.
The Department of Electronic and Telecommunication Engineering at the University of Moratuwa is proud of Team CircuitBreakers' achievement and looks forward to seeing their continued success in the field of robotics.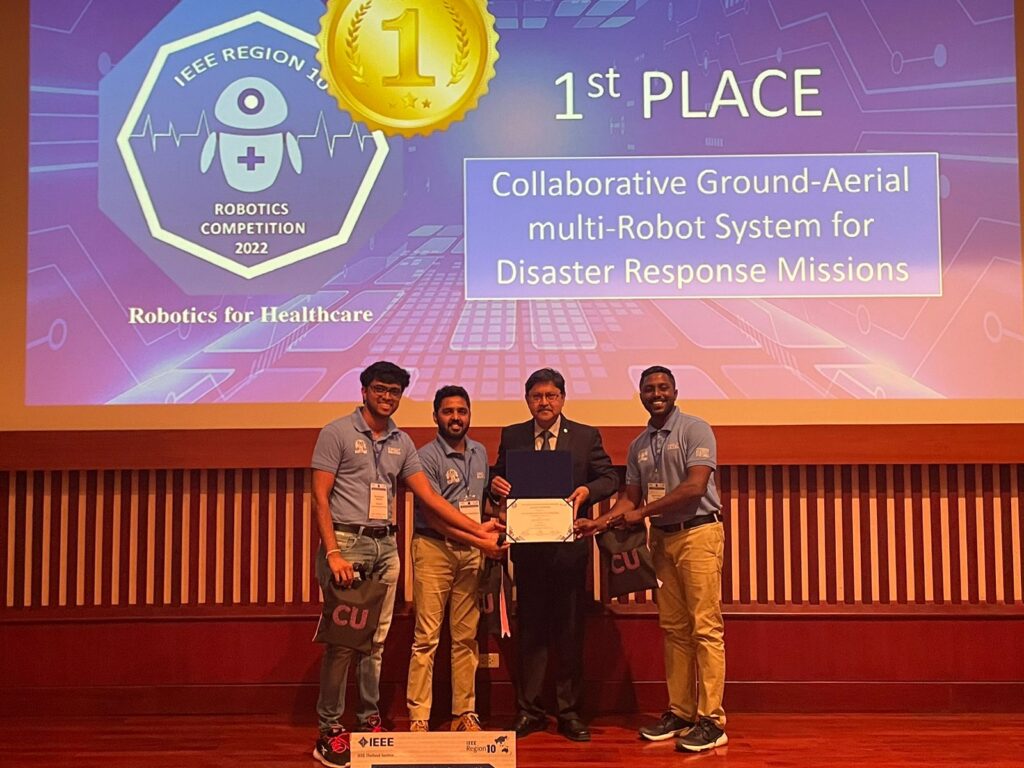 ---