PG Dip/MSc in Telecommunications
PG Diploma/MSc in Telecommunications 2023 Intake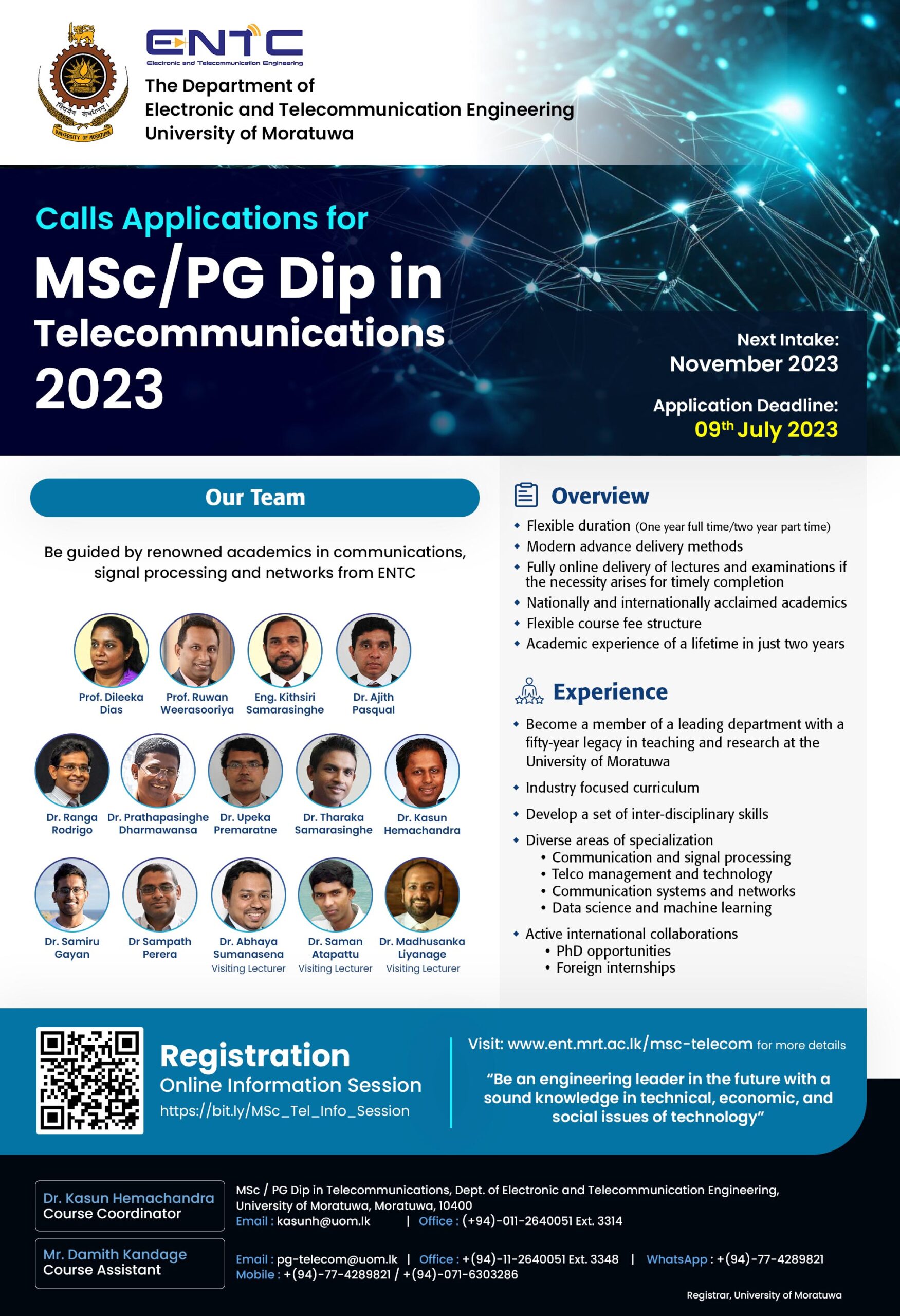 Applications are called from eligible candidates for PG Diploma/MSc in Telecommunications 2023 Intake, which will commence in November 2023
Closing date of applications: 09th July 2023
Interviews and placement exam for relevant applicants will be held on 22nd July 2023 (Saturday) morning
Official advertisement – Download
Online information session – Register
Registration form 2023 Intake – Download
Guidelines for applicants 2023 Intake – Download
Registration form softcopy submission – Online Form
About Telecommunications Course
The programme targets practicing engineers who wish to build and advance their careers in the field of Telecommunications, and also as a stepping stone for those who aspire to pursue advanced research in Telecommunications. The MSc/PG Diploma Program in Telecommunications is built around a set of core course modules considered fundamental to a thorough understanding of the broad field of telecommunications, and a set of elective course modules from a larger knowledge base covering the realms of Telecommunication Engineering practice. The course thus enables students to broaden their knowledge depending on the particular industry segment they are employed.
The course also offers students who wish to embark on a research-oriented career, a very good grounding as many course modules have a strong research focus dealing with cutting edge research in Wireless and Optical Communications and Networks. A Directed Study module prepares them for effective research at the MSc level. Through the program, students have the opportunity to study real-world applications of theoretical concepts and algorithms. They conduct modeling, design, analysis, and simulation of different communication systems and networks through a wide range of prominent software and hardware tools and platforms. In addition, industry-related projects are carried out by students at both PG Diploma and MSc levels.
Course Duration: MSc is a six-term (two years) part-time or three terms (one year) full-time course.
International Students are eligible for full-time MSc Only.
Curriculum- Revised in 2019
Key highlights of the new curriculum:
Workload evenly balanced over the three terms with a maximum of four subjects per semester.
Subjects updated taking trending technologies of next-generation networks into consideration.
Key subjects on data sciences, statistical learning, and optimization were added with a focus on their applications in telecommunications.
More flexible subject choices for the students depending on their preference in communication theory, telecommunication industry (technical and management), and data sciences and decision theory.
B.Sc. Engineering degree of University of Moratuwa, in a relevant field as judged by the Faculty and approved by the Senate,

 

OR
Any other Engineering degree in a relevant field and equivalent to (1) as judged by the Faculty, and approved by the Senate,

 

OR
A minimum three year full-time degree from a recognized university, specializing in a relevant field,

 

AND

 

a minimum one year experience in a relevant field after graduation, both as may be judged by the Faculty and approved by the Senate,

 

AND

 

successful performance in the placement examination of the programme,

 

OR
A professional qualification of a recognized professional institute in a relevant field

 

AND

 

a minimum of one year of appropriate experience after obtaining such qualification: the acceptability of the professional qualification of the candidate, the recognition of the institute and the relevancy of the field for this purpose shall be judged by the Faculty and approved by the Senate.
You should review the course website before completing the rest of the application form. We look forward to processing your application. You may find the following points helpful when completing the postgraduate application form. The soft copy of the application must be filled and digitally signed using a compatible PDF software (e.g. Adobe Acrobat Reader). A printout of the duly filled and signed PDF form must be posted to the given address at the bottom of this guideline, along with all supporting documents. Also, the softcopies of the duly filled application, and the supporting documents should be uploaded as a single archive file (zip) by using the online form linked with the course web site.
If the space provided in the form is not sufficient to include your information, attach additional PDF documents with the section number written on the top right-hand corner of the page.
Section 1: Personal Information
This section is compulsory and should be completed in full. Please indicate the preferred address and the Email ID for all future correspondence. If your correspondence address or E-mail changes, please contact the course coordinator (E-mail: pg-telecom@uom.lk) as soon as possible, and update your personal information.
Section 2: Academic Information (Program of Study)
This section will reveal the intended scope of the study program. If you are only interested in obtaining the one-year part time Post Graduate Diploma, check (x) item Diploma. If you are interested in continuing for the MSc as well, indicate this by checking (x) item MSc, and also specifying the mode of study part time/full time. If you are registering for the full-time course, and you are currently employed, a letter of consent from the employer should be furnished with the application material. If you are currently registered for any other postgraduate course at the University of Moratuwa or any other institute, it should be stated and explained. Your application will be assessed according to this information to determine your ability to successfully complete the chosen degree.
Section 3: Academic/Professional Qualifications
According to the Eligibility criteria, the selection is carried out either by academic qualifications (3a) or professional qualifications (3b). If you only possess academic qualifications, please fill section 3(a) and disregard section 3(b). If you only possess professional qualifications, please fill section 3(b) and disregard section 3(a). However, if you possess both academic and professional qualifications you are encouraged to provide all information by filling in both sections 3(a) & 3(b).
Please complete Section 3(a)-B if you have obtained any postgraduate qualifications. This may be used to determine the relevancy of the field of study if the first degree specified in Section 3(a)-A in not relevant as per eligibility criteria.
Please provide certified copies of documents as evidence to support all claims in Section 3(a) & 3(b). Certificates that are not printed in English should be accompanied by a certified translation. The following can be used as a general guideline.
Copy of the birth certificate
Copy of NIC or passport
Copy of the degree certificate*
Copy of the official transcript*
Documents supporting your claim of membership in the professional organization
Document indicating your membership status and the date of election to this status in the professional organization
All transcripts of the examinations conducted by the professional organization in order to fulfill the current membership status
Documents supporting your claim of professional experience
*Copies of degree certificates and academic transcripts must be certified by the relevant educational institute. Applicants, who have obtained a bachelor's degree or any other relevant educational qualification from a foreign university (including local non-state universities affiliated to foreign universities), are required to submit the certificate of recognition of the foreign institute issued by the UGC of Sri Lanka, along with the M2 form which is attached with this application. Please visit the UGC website for further information on applying for a certificate of recognition of a foreign institute.
Section 4: Details of Relevant Work Experience
If you have no prior work experience, you can ignore this section of the form. However, if you are gaining eligibility through Section 3(b) or Section 3(a) with a three-year full-time degree, this section is mandatory. Please highlight only the relevant experience (the work experience after obtaining the degree or professional qualification) starting from the most recent experience. You can also use this section to highlight other relevant skills, awards, and experience that you may possess. Furthermore, service letters should be provided as proof of work experience.
Section 5: Application Processing Fee & Entrance Exam Fee
Pay the application processing fee of Rs. 2500.00 and the placement examination fee of Rs. 1000.00 (if applicable) in favor of "Bursar University of Moratuwa" Bank of Ceylon account number 70993353. Please avoid ATM deposits. If you do online fund transfers, entering your NIC number and TEL (e.g. 905412354V TEL) in the reference field is a must. If you are unable to enter the reference as mentioned above, your online transfer might not be successful. Make sure to attach the payment slip with the application. All applicants must pay the application processing fee. However, the placement examination fee is applicable only for threeyear degree holders, and applicants applying only under the professional qualifications category (3(b)).
Mailing and Contact Information
Mailing address
The Course Coordinator,
PG. Diploma/MSc in Telecommunications 2023,
Dept. of Electronic and Telecommunication
Engineering.
University of Moratuwa,
Moratuwa 10400,
Sri Lanka
Contact Information
Office : +94 112 640 051 Ext. 3300 or 3348
WhatsApp : +94 774 289 821 (Damith)
Mobile : +94 716 303 286
E-mail : pg-telecom@uom.lk
Web : http://www.ent.mrt.ac.lk/msc-telecom
Class Schedule
Lectures and Laboratory Sessions will be conducted on Saturdays and Sundays as follows:
| | Time | Venue |
| --- | --- | --- |
| Saturday | 8.30 am – 5.30 pm | University of Moratuwa/Online Zoom Classes |
| Sunday | 8.30 am – 4.30 pm | University of Moratuwa/ Online Zoom Classes |
Please note that the exact class schedule in Semester 2 and Semester 3 will depend on the optional course modules taken.
Usually, classes will not be scheduled on public holidays.
Local Students
During the application form submission
Application Processing Fee
Rs.
2,500.00*
Placement Examination Fee+
Rs.
1,000.00*
Applicable for selected applicants during the course enrollment
PG Diploma Course Fee – 1st Year
Rs.
375,000.00
MSc Research – 2nd Year
Rs.
125,000.00
Registration Fee
Rs.
1,000.00
Examination Fee
Rs.
500.00
Library Deposit (Non-refundable)
Rs.
2,000.00
Library Deposit per book (Refundable)
(one student can pay up to 06 books 2,500.00 x 06 = 15,000.00)
Rs.
2,500.00
+Only applicable to three year full-time degree holders and those who apply under professional experience category.
*May be paid by a pay-in voucher from Bank of Ceylon (Account No.70993353) in favor of Bursar University of Moratuwa. Please avoid ATM deposits. If you do online fund transfers, entering your NIC number and TEL (e.g. 905412354V TEL) in the reference field is a must. If you are unable to enter the reference as mentioned above, your online
transfer might not be successful
PG diploma course fee can be paid in installments at the beginning of each term : Rs. 200,000.00 + Rs. 100,000.00 + Rs. 75,000.00 = Rs. 375,000.00
Note that foreign students are required to pay Rs. 200,000.00 in addition to the above fees.
Few scholarships maybe available for selected candidates on merit and need basis.
Dr. Kasun Hemachandra
Course Co-ordinator
PG Dip/M.Sc. in Telecommunications
Dept. of Electronic & Telecom. Engineering
University of Moratuwa
Moratuwa 10400
Sri Lanka
Email: kasunh[at]uom.lk
Office: +(94)-11-2650051
(ext. 3300 or 3314)
Fax: +94 112 650 622
Mr. Damith Kandage
Course Assistant
PG Dip/M.Sc. in Telecommunications
Dept. of Electronic & Telecom. Engineering
University of Moratuwa
Moratuwa 10400
Sri Lanka
Email: damithk[at]uom.lk
Office: +(94)-11-2650051
(ext. 3300 or 3348)
Mobile: +(94) 774 289 821