UOM Emerged as the Champions of the Students Challenge in the ICAS 2021 Conference
Team DigitX, a team of ten undergraduates from the Department of Electronic and Telecommunication Engineering (ENTC) under the supervision of Dr. Chamira Edussooriya from ENTC, University of Moratuwa, emerged as the champions of the Students Challenge at the Internal Conference on Autonomous Systems (ICAS) 2021 conference. The conference was held virtually in Montreal, Canada from August 11 to 13, 2021.
ICAS 2021 is the premier international forum organized by the IEEE Signal Processing Society (SPS) through IEEE SPS Autonomous Systems Initiative, for presenting the technological advances and research results in the fields of theoretical, experimental and applied autonomous systems. IEEE ICAS was held for the first time this year and it focused on providing an updated state-of-the-art over advanced signal processing theories and techniques that are relevant for developing autonomous systems.
The ICAS 2021 Students Challenge was on "unsupervised anomaly detection through self-aware autonomous systems", to detect abnormal events during the navigation of a ground/ aerial vehicle. The team was able to develop an unsupervised learning algorithm with state-of the-art signal processing and machine learning techniques such as auto-encoders, recurrent neural networks for time-series data signal processing.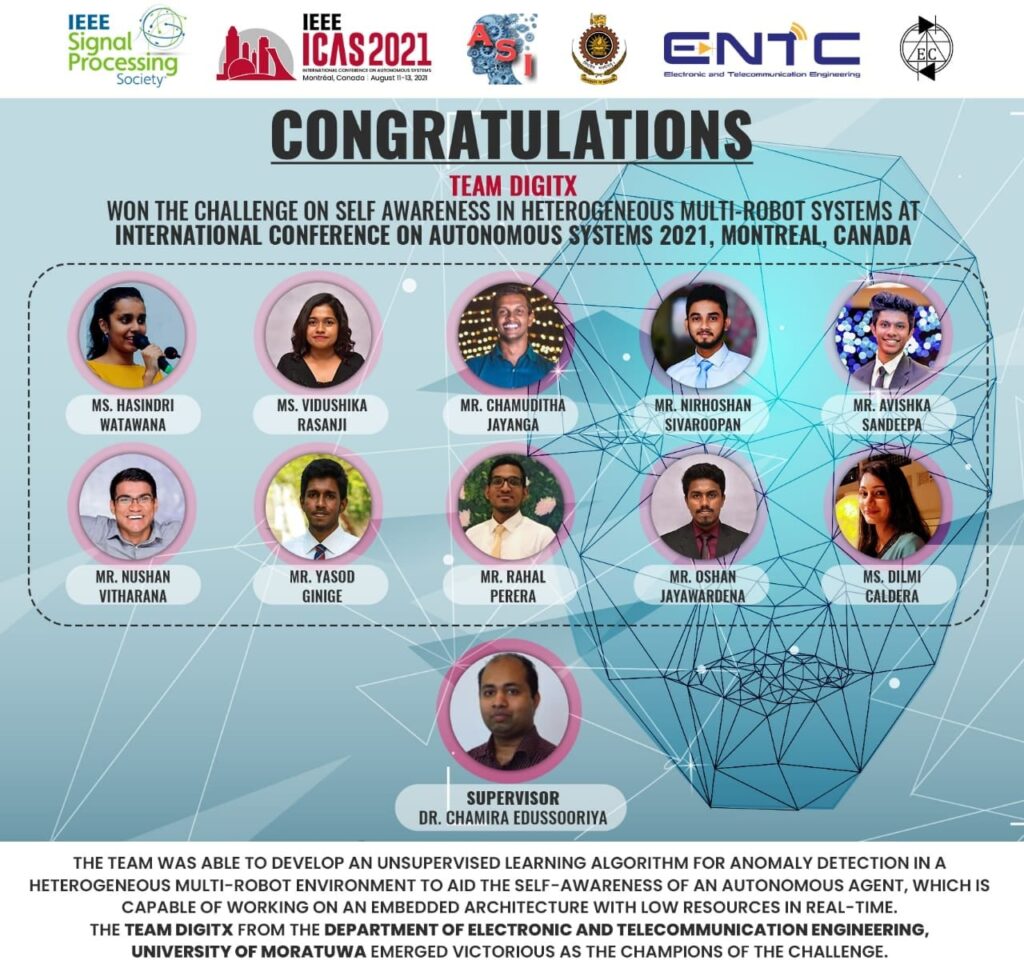 Based on the inertial measurement unit (IMU) sensor data, video data captured by the cameras of autonomous systems in several camera perspectives and light detection and ranging (LIDAR) sensor data (point clouds), the unsupervised model was trained to identify the normal situations that it saw during the training phase as normal and every other situation as abnormal (as per the challenge requirement a reference normal scenario was defined for each dataset). UoM won the first place while a team from Indian Institute of Technology (IIT), India and a team from CentralSupelec, France won first and second runners up, respectively.
An autonomous system is an artificial system capable of performing a set of tasks with a high degree of autonomy. Developing computing systems with advanced levels of autonomy has been a crucial task for decades in order to manage ever-increasing requirements in complexity. This achievement by UoM places Sri Lanka at a higher position in the world signal processing community.
---