SPARK project aims to drive projects that solve crucial problems that mankind faces such as climate change, food scarcity, and inequality in education though the application of engineering principles. All these are important aspects of the 17 Sustainable Development Goals (https://sdgs.un.org/goals). Approximately 35 student teams worked on developing solutions to problems that address one or more such goals. Ten groups were able to propose fully-developed ideas and make prototypes. This was possible after a long-term training provided by SAPRK with the involvement of foreign trainers.
As the culmination of this year-long process, the ten groups pitched their projects to an eminent panel of judges comprising Mr. Heminda Jayaweera, Mr. Fayaz Hudah, Mr. Chalinda Abeykon and Mr. Josh Robsen. This pitching session took place on July 24, 2022 at the Department of Electronic and Telecommunication Engineering in a vibrant setting with many students and staff members watching and deliberating about the possible impact of the projects.
Read More
A session termed "Step into ENTC" was held on March 7, 2022, to educate the prospective students on the career opportunities and higher studies. The panel of lecturers, alumni, and final-year undergraduates conducted the session.
Mr. Mohamed Afham an alumnus now with Meta, NY, discussed about the path and opportunities in machine vision and machine learning. Mr. Deepana Ishtaweera with his background on robotics, robotic education, and start-ups talked about robotics. Mr. Jathurshan Pradeepkumar, a biomedical engineering alumnus now with Harvard, shed light on opportunities in biomedical engineering. Mr. Kalana De Silva, an alumnus attached to a large-scale telecommunication organization in Singapore, spoke about processor design. Dr. Subodha Charles, a staff member with expertise in cybersecurity and embedded systems, spoke about internet of things.
The panel showed a multitude of avenues to take in becoming an engineering scientist. The session turned out to be much informative to the participants.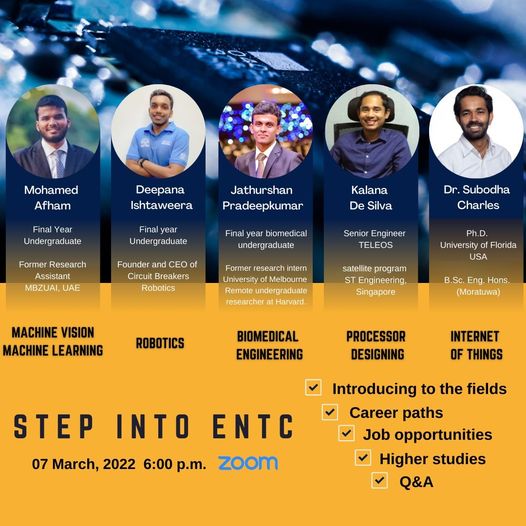 Read More