Step into ENTC
A session termed "Step into ENTC" was held on March 7, 2022, to educate the prospective students on the career opportunities and higher studies. The panel of lecturers, alumni, and final-year undergraduates conducted the session.
Mr. Mohamed Afham an alumnus now with Meta, NY, discussed about the path and opportunities in machine vision and machine learning. Mr. Deepana Ishtaweera with his background on robotics, robotic education, and start-ups talked about robotics. Mr. Jathurshan Pradeepkumar, a biomedical engineering alumnus now with Harvard, shed light on opportunities in biomedical engineering. Mr. Kalana De Silva, an alumnus attached to a large-scale telecommunication organization in Singapore, spoke about processor design. Dr. Subodha Charles, a staff member with expertise in cybersecurity and embedded systems, spoke about internet of things.
The panel showed a multitude of avenues to take in becoming an engineering scientist. The session turned out to be much informative to the participants.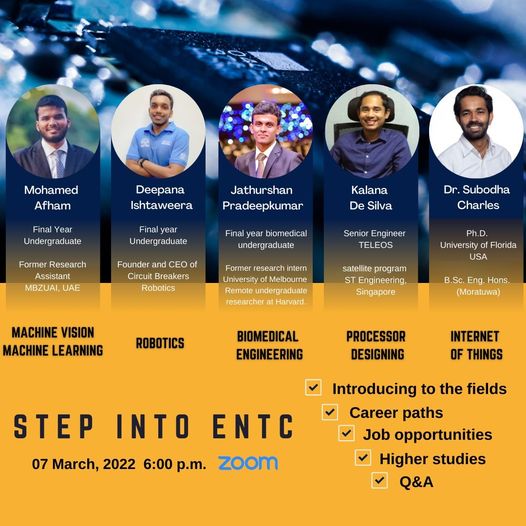 ---