SLRC 22 Advanced Robotics Workshop: A Journey into the Realm of ROS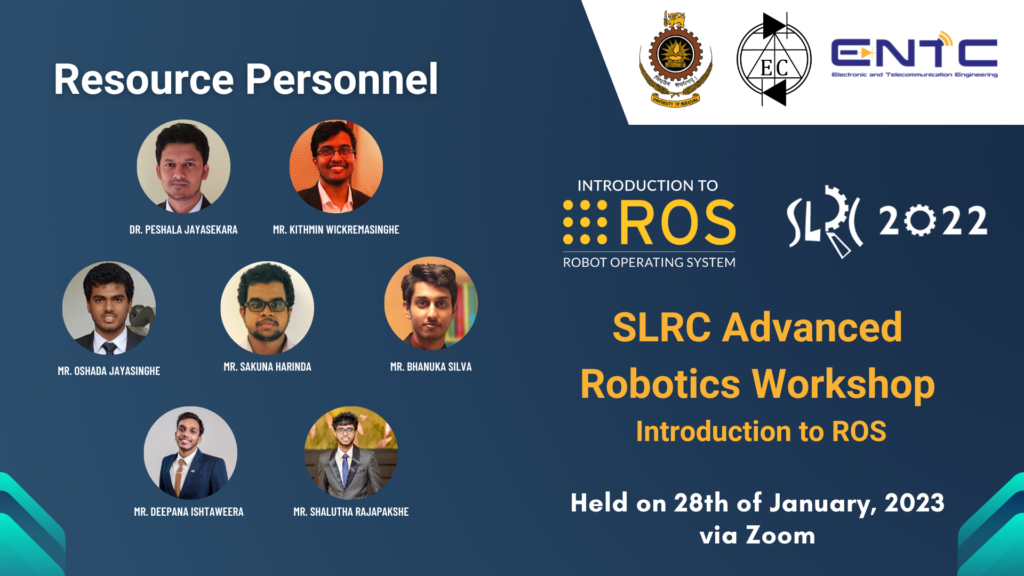 The Sri Lankan Robotics Challenge (SLRC) is an exciting place to promote robotics education and research in Sri Lanka. The SLRC branch of Electronic Club, Department of Electronic and Telecommunication Engineering (ENTC), University of Moratuwa (UoM) hosted a one-day online workshop titled "Introduction to Robot Operating System (ROS)" in conjunction with the SLRC 22/23 competition on January 28th, 2023. The workshop aimed at anyone who was interested in developing advanced robotic systems using ROS.
The instructor panel included fully competent resource personnels led by Dr. Peshala Jayasekara, a senior lecturer at ENTC, UoM, as well as few other ENTC graduates namely Mr.Kithmin Wickramasinghe, Mr. Bhanuka Silva, Mr Oshada Jayasinghe, Mr Sakuna Harinda , Mr Deepana Ishtaweera and Mr Shalutha Rajapaksha who extended their fullest support to make the event a success.
The program kicked off with an overview of the fundamentals of ROS, including its architecture, communication strategy, and message passing framework. Afterward, the participants were guided through creating a basic robot system in ROS utilizing its various tools and libraries. The participants were given access to a virtual environment to practice designing and developing robots with ROS. Robot sensors and actuators, robot control, and computer vision were just a few of the more complex topics that were covered in the program. The instructor panel also provided participants with tips and best practices for building robust and efficient robotic systems using ROS.
Throughout the day, participants were encouraged to ask questions and seek guidance from the instructors. This created a collaborative and supportive learning environment where participants could learn from each other's experiences and insights. The workshop was attended by a 140+ diverse group of participants, including school students, undergraduates, and professionals from various industries from all over Sri Lanka and beyond.
At the end, the participants' feedback was overwhelmingly positive, with many praising the workshop's worth for their professional development and the caliber of the training. The SLRC received acclaim from participants for offering such a forum for free robotics study and networking with like-minded people.
Overall, the SLRC's one-day online ROS program was a huge success, giving participants a firm grounding in both advanced robotics principles and ROS. The event served as an invaluable resource for anyone interested in using ROS to construct sophisticated robotic systems and demonstrated the SLRC's dedication to promoting robotics in Sri Lanka.
Dulini Himeka
---