Migara Ratnatunga Trust Award for Industrial Training for Undergraduates 2020/2021
Kalana Abeywardena, an immediate graduate of Department of Electronic and Telecommunication Engineering, University of Moratuwa, won the Migara Ratnatunga Trust Award (All island 1st place – Category A) for the year 2020/2021 which was awarded by the Institution of Engineers, Sri Lanka (IESL) for the best Electronic and Telecommunication Engineering trainee who portrayed excellent performance at Industrial Training. The award (a cash prize and certificate) was presented at the IESL induction and graduation ceremony on Friday, June 17, 2022.
Kalana completed his 6 months industrial training at the School of Computer Science of the University of Sydney, Australia as a Visiting Research Student under the supervision of Dr. Suranga Seneviratne in 2019. During the training, he was mainly engaged in two projects: he developed a cyber security framework to address phishing attacks on websites using computer vision and artificial intelligence and worked on depth filters and artificial intelligence to process Light Field signals to improve their signal power. Moreover, he worked as an undergraduate assistant in a summer program organized by the University of Sydney for international students from China.
Migara Ratnatunga Trust Award is awarded to the high achievers of level 3 industrial training module at the Annual sessions of IESL. The results of the evaluations done by the university training division will be submitted to the IESL, where a few undergraduates would be recognized as high achievers in the compulsory industrial training module in the engineering undergraduate program after a rigorous evaluation among the undergraduates of other state universities.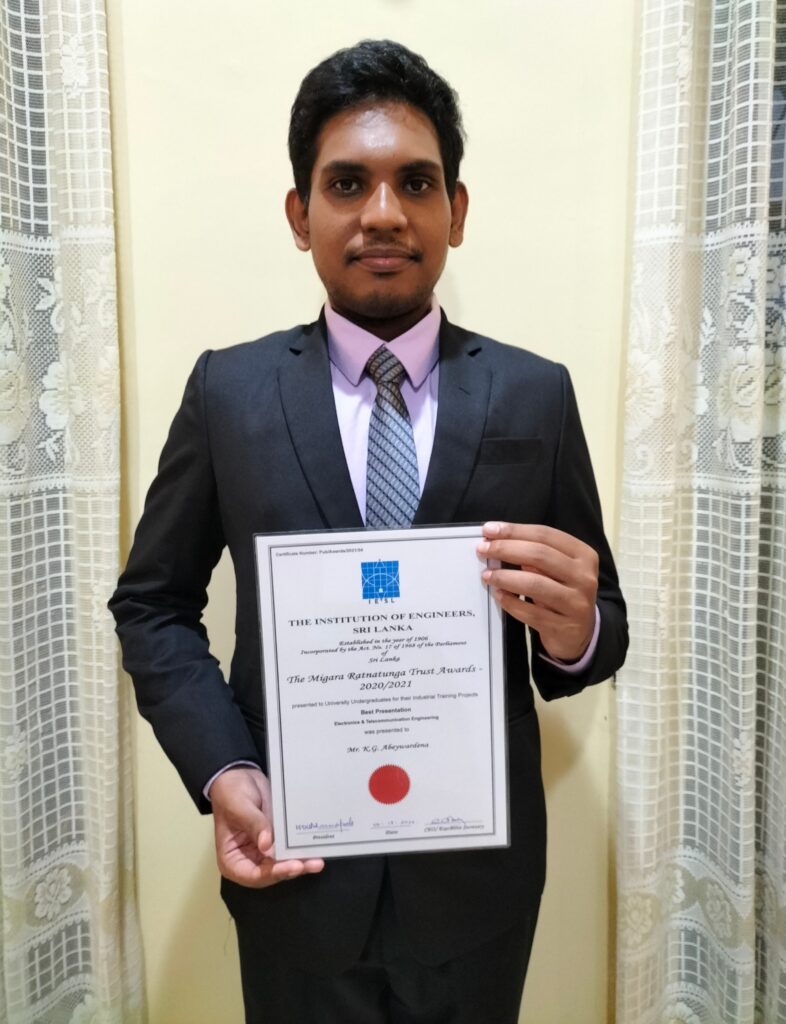 ---